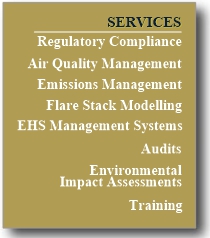 Calvin Consulting provides the following
Regulatory Compliance Services:
Regulatory Permitting
Provincial regulations across Canada require that updates to registrations, licences and/or approvals be approved prior to any equipment or operational changes being made at any permitted industrial site. New industrial facilities also may require permitting. Calvin Consulting has extensive experience performing the required air quality dispersion modelling, preparing regulatory applications and guiding these applications successfully through the approval process. Our experienced staff are well-known and respected by the various regulatory agencies and are fully appraised of the regulatory requirements for all types of industrial facilities.
Environmental Reporting
Calvin Consulting is recognized as a leader in air quality, emissions and wastewater reporting that is required by the various regulatory agencies in Canada. Some of the reports we prepare for our clients include the following:
· Air Quality Reports
· Continuous Emission Monitoring System (CEMS) Reports
· Dehydrator Benzene Inventory Reports
· Greenhouse Gas Reports
· National Pollutant Release Inventory (NPRI) Reports
· Specified Gas Emitters Reports
· Wastewater Reports
Executive Consulting
Greenhouse gas and gaseous emissions in general have become a priority in recent years. Calvin Consulting Principal Consultants have extensive boardroom experience assisting oil and gas executives in preparing applicable information for stakeholders and/or shareholder reporting.
Please contact us to inquire about our services.
We look forward to serving you.

Phone: 403.547.7557
Email: [email protected]
Cell: 403.560.7698

Suite 1A, 3850 - 19th Street N.E.
Calgary, Alberta T2E 6V2

Phone: 506.674.0891
Email: [email protected]
Cell: 403.560.7698

216 Ashburn Lake Road
Saint John, New Brunswick E2J 5E2