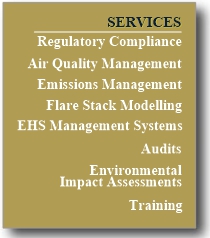 Calvin Consulting provides the following
EHS Management System Services:
Environmental, Health & Safety Management Systems
Calvin Consulting personnel have more than 20 years of Canadian and international experience developing and implementing Environmental, Health and Safety (EHS) Management Systems to ISO 14001 Standards. These systems are required by the National Energy Board (NEB) in Canada, as well as by numerous other regulatory agencies worldwide. Calvin Consulting also has extensive experience implementing these EHS Management Systems and training industry personnel in the areas of Environmental Awareness, Regulatory Compliance and Health & Safety Awareness.
Please contact us to inquire about our services.
We look forward to serving you.

Phone: 403.547.7557
Email: [email protected]
Cell: 403.560.7698

Suite 1A, 3850 - 19th Street N.E.
Calgary, Alberta T2E 6V2

Phone: 506.674.0891
Email: [email protected]
Cell: 506.560.7698

216 Ashburn Lake Road
Saint John, New Brunswick E2J 5E2