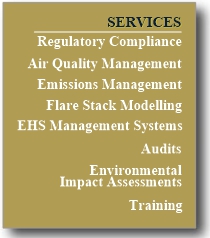 Calvin Consulting provides the following
Emissions Management Services:
Emissions Reporting
Various emission reports are required by Canadian Provincial and Federal Regulatory Agencies. Calvin Consulting is recognized as being one of the top emissions reporting companies in Canada. Some of these reports include the following:
·
National Pollutant Release Inventory (NPRI) Reporting

- NPRI reporting is a federal requirement administered by Environment Canada under the authority of the Canadian Environmental Protection Act (CEPA). Facilities are required to report if they exceed the Environment and Climate Change Canada (ECCC) reporting thresholds. There are approximately 10,000 Canadian facilities that report to this program annually. The annual deadline for this reporting is June 1.

·
Federal Greenhouse Gas Reporting

- Environment Canada requires information on Greenhouse Gas emissions to be reported for all facilities classified as Large Final Emitters (LFE). Currently, the threshold for LFEs is 10 kilotonnes of CO2 equivalent. The annual reporting deadline for this program is June 1.

·
Specified Gas Reporting Regulation

- The Specified Gas Reporting Regulation (SGER), is the AEPA Greenhouse Gas Reporting Program for facilities emitting more than 10 kilotonnes of CO2 equivalent. This is a third-party verified report with financial consequences. For existing facilities, the baseline period is established as 2003 to 2005 and the expected reductions are intensity based. Specifically, a 12% reduction over the baseline period is required from 2007 onward. Failure to meet this goal requires the purchase of offset credits or contribution to the Alberta Technology Fund (at a cost of $30/tonne). Annual reports must be submitted by March 31 of each year.

·
B.C. Ministry of Environment

- In the Province of British Columbia, there are two greenhouse gas reporting thresholds. All facilities that emit more than 10 kilotonnes of CO2 equivalent must report to March 31. All facilities that emit more than 25 kilotonnes of CO2 equivalent are subjected to regulatory controls.

·
Multi-Sector Air Pollutants Regulations (MSAPR)

- MSAPR establishes the first mandatory national air pollutant emission standards for major industrial facilities in Canada. The MSAPR were published on June 2016 and establish requirements for NOx emissions from stationary engines, boilers and heaters across various industrial sectors, as well as NOx and SO2 emissions from kilns in cement manufacturing facilities. Emission sources that comply with the associated reporting thresholds must be registered with ECCC by January 1, 2019, and the performance standards associated with these units will be phased in over several years. Performance standards and timelines will vary based on several characteristics of the various types of equipment.

·
Annual Emissions Inventory Report (AEIR)

- Alberta industrial facilities that have an Environmental Protection and Enhancement Act (EPEA) approval are required to prepare an annual inventory of their emission sources and the quantities of contaminants being released by these emission sources. If stated AEIR thresholds are met for any contaminant, these facilities are also required to complete and submit an annual report using the Annual Emissions Inventory Report Form. This inventory must be completed by September 30 each year.

·
Canadian Association of Petroleum Producers (CAPP) Stewardship Reporting

- CAPP members are required as a condition of membership to complete Stewardship Reporting annually. This reporting includes company-wide greenhouse gas emissions, production data and estimation methods used for preparing these inventories.
Leak Detection & Repair Programs
All upsteam oil and gas facilities in Alberta are required to have a Leak Detection and Repair (LDAR) Program, which includes annual testing. Calvin Consulting has been developing and implementing these LDAR Programs since 2007 and to date have completed this process at over 800 facilities in Alberta.
BENZENE MANAGEMENT
Calvin Consulting assists our clients with their Benzene Management Programs in accordance with the Alberta Directive 39. Calvin Consulting schedules laboratory field testing, verifies results, prepares the required Dehydrator Engineering and Operations Sheet (DEOS) and compiles the Dehydrator Benzene Inventory Reports that must be submitted by July 1 of each year.
Emissions Inventories
With the rapid growth of the oil & gas industry in Canada, many corporations do not have the internal resources to ensure emission inventories and equipment lists are kept up-to-date. Our emission specialists assist corporations with this important task, thereby ensuring compliance with regulatory operating approvals and emissions reporting requirements.
Continuous Emissions Monitoring Systems (CEMS)
Calvin Consulting has been writing CEMS Quality Assurance Plans (QAPs) and performing the required CEMS Audits since these regulatory requirements came into effect in Alberta in 1999. Our CEMS QAPs are recognized by industry and regulators as being "top notch" and are written as useful "how-to" manuals for facility operators. Calvin Consulting personnel routinely complete CEMS Audits as required annually by Alberta Environment.
Please contact us to inquire about our services.
We look forward to serving you.

Phone: 403.547.7557
Email: [email protected]
Cell: 403.560.7698

Suite 1A, 3850 - 19th Street N.E.
Calgary, Alberta T2E 6V2

Phone: 506.674.0891
Email: [email protected]
Cell: 403.560.7698

216 Ashburn Lake Road
Saint John, New Brunswick E2J 5E2