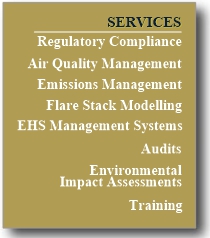 Calvin Consulting Consultants have extensive experience performing environmental and regulatory compliance audits. Currently, Calvin Consulting offers the following Auditing Services:
Continuous Emissions Monitoring System Audits
Continuous Emissions Monitoring System (CEMS) Audits are required annually by Alberta Environment and Protected Areas (AEPA) on all CEMS in the province. These audits are designed to ensure that all industry personnel responsible for operating, maintaining, compiling data and archiving reports for the CEMS follow the Alberta CEMS Code and CEMS Quality Assurance Plan (QAP) for their facility. When deficiencies are found during the CEMS Audit, Calvin Consulting assists our clients with preparation of corrective action plans and training, when applicable. Calvin Consulting has been performing these audits since the Alberta CEMS Code came into effect in the late 1990s.
Air Monitoring Directive Audits
All industrial facilities in Alberta that have air quality reporting requirements in their Alberta Environmental Protection and Enhancement Act (EPEA) Approvals are required to have an Air Monitoring Directive (AMD) Quality Assurance Plan (QAP). This AMD QAP outlines the system for air quality reporting at each applicable facility and must be audited once every three years at a minimum. Similar regulatory requirements are being developed for Saskatchewan.
Regulatory Compliance Audits
Calvin Consulting Auditors frequently conduct general Regulatory Compliance Audits for our clients. The purpose of these audits is to ensure ongoing compliance and continual improvement.
Due Diligence Audits
Calvin Consulting Auditors also have extensive experience performing Due Diligence Audits for Asset Aquisitions. These audits assign a cost of compliance to assist prospective buyers in assessing future expenditures required to ensure compliance.
Environmental, Health & Safety Management System (EHSMS) Audits
The National Energy Board (NEB) requires all applicable facilities to have an EHSMS, which the NEB will audit on occasion. To assist our clients stay in compliance with all NEB requirements pertaining to EHSMS, Calvin Consulting is frequently requested to perform EHSMS Audits.
Please contact us to inquire about our services.
We look forward to serving you.

Phone: 403.547.7557
Email: [email protected]
Cell: 403.560.7698

Suite 1A, 3850 - 19th Street N.E.
Calgary, Alberta T2E 6V2

Phone: 506.674.0891
Email: [email protected]
Cell: 403.560.7698

216 Ashburn Lake Road
Saint John, New Brunswick E2J 5E2