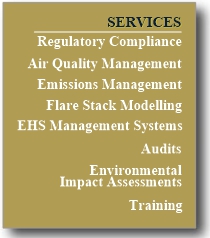 Calvin Consulting provides the following
Air Quality Management Services:
Dispersion modelling
Calvin Consulting air quality dispersion meteorologists and modellers are some of the most experienced in Canada. Three of our five Principal Consultants have more than 85 years of combined experience as disperison modellers. We not only perform dispersion modelling for our clients, but also have been hired to train personnel at Alberta Environment and Protected Area (AEPA), the Alberta Energy Regulator (AER) and Environment Canada.
Quality Assurance Plans
In Alberta, Continuous Emissions Monitoring System (CEMS) and Air Monitoring Directive (AMD) Quality Assurance Plans (QAPs) are required for all applicable facilities. Calvin Consulting has written more than 200 of these plans since 2007. All plans are written to be useful "how-to" manuals for facility operators and have been noted by regulators in Alberta as being "top notch" on more than one occasion.
Climate Summaries
Calvin Consulting has extensive experience preparing climate summaries for Environmental Impact Assessments and for Canadian design services companies who are working worldwide.
Air Quality & Meteorological Monitoring
Calvin Consulting meteorologists and dispersion modellers have more than 30 years of experience siting air quality and meteorological monitoring stations. Additionally, we have experience performing volatile organic compound (VOC) and radon monitoring for a variety of industrial facilities in Canada and abroad.
Please contact us to inquire about our services.
We look forward to serving you.

Phone: 403.547.7557
Email: [email protected]
Cell: 403.560.7698

Suite 1A, 3850 - 19th Street N.E.
Calgary, Alberta T2E 6V2

Phone: 506.674.0891
Email: [email protected]
Cell: 403.560.7698

216 Ashburn Lake Road
Saint John, New Brunswick E2J 5E2